Specializing in Yoga Classes to Bring You into Deep Meditation

Elisabeth began practicing yoga in 1998. Teaching since 2008, Elisabeth blends vinyasa yoga in alignment with Shiva Rea (Samudra Global School for Living Yoga 200 hour Prana Vinyasa® yoga teacher), hatha yoga and pranayama through studying with Mas Vidal of Dancing Shiva, and deep, general meditation that gives a taste of Kriya Yoga by evoking the Masters of that lineage. Elisabeth is also certified to teach trauma-conscious yoga.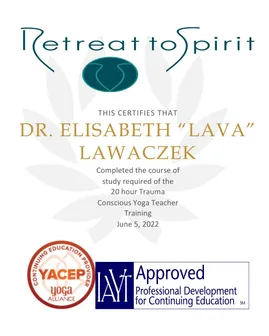 Offering Yoga and Meditation Retreats in Nature
Providing Private, Custom in-peron and online trauma conscious yoga instruction to my clients, blending Vinyasa, Hatha, Pranayama (breathwork), and Guided Meditation
Teaching Workshops at Desert Power Yoga in Moab, Utah
Offering Guest Yoga Instruction at yoga festivals or workshop style classes such as Partner Yoga classes
"Even after traveling the world studying yoga, Elisabeth is one of the best teachers I've ever experienced! She had the perfect balance between meditation, a work out, and deep stretching. Fun, playful, powerful and super affective, her flows seemed to reach every part of my body, soul, and mind. I could also tell that she could truly read the class and ramp it up or mellow it down depending on what we needed. Her vibrant but soft energy was contagious. If I could take a class by Elisabeth every day I would."
— Angela S., Yogini and climber, Ouray, CO
"Elisabeth's Yoga classes are outstanding! Being an overweight dude with limited flexibility and being frustrated with my experience at a few other Yoga studios, I appreciate that not only did I feel welcomed, but that she worked with me to allow me to progress and transition into more advanced classes. The pointers and personal touch were appreciated."
— Kevin Weitzel, founder and former owner, Tribe Multisport, Scottsdale, AZ
While my training has been primarily in Prana Vinyasa- all levels, Hatha style as taught by Mas Vidal, and mat Pilates, I have taught many classes to beginners such as stiff endurance athletes and never-ever students at worksite wellness programs.
Yoga on the mat is in part to prepare the body for meditation. My classes always include some meditation.
Teaching meditation and yoga at Sangha Fest south of Durango in July 2023, Click on image below for details:
Visit my training webpage for information on my certifications in yoga instruction.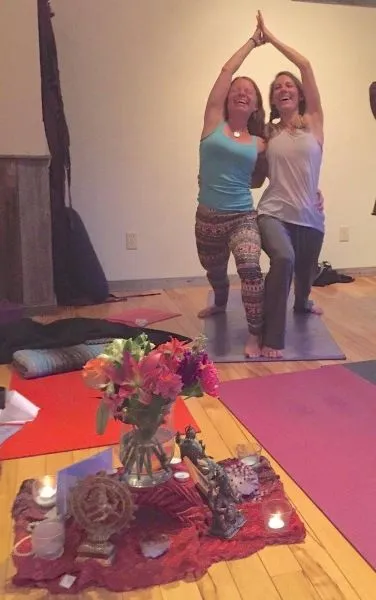 ---
Private Yoga Instruction in Natural Settings
Prana Vinyasa- all levels, Deep Stretch & Relax, Beginners Worksite Wellness classes, Meditation.
Coming Soon: Group Instruction, followed by deep meditation in the red desert surrounding Sedona, Moab and other deep wilderness areas.