Healer of Healers
"Elisabeth went through a brutal transformation, a brutification really, and emerged as a powerful healer to support others with their return to wholeness."
- Ben Tanzer, Coach, Storyteller, HEFT Creative Strategies
Testimonials
"I highly recommend Elisabeth for coaching services. I was coached by Elisabeth over a 2 1/2-year period - without a doubt, the most difficult period in my life. Her coaching was a life-raft for me during a devastating season of loss - the loss of a parent during a global pandemic, shifting family dynamics, and shifting professional priorities as well. Elisabeth is a great listener, very intuitive, thoughtful, patient, and strategic. Our sessions always left me with greater insight into myself, my relationships, my priorities and goals, and also a clearer understanding of next steps. Elisabeth is a very knowledgeable coach and holistic in her approach. I found her recommended resources to be particularly helpful. More importantly, she is an incredibly kind soul, extremely smart, and transparent, with a great sense of humor and an infectious laugh. For these reasons and more, I will continue to seek coaching from Elisabeth, as needed, for many years to come." -Melvia, Birmingham, AL
"Before working with Elisabeth, I was in a dark place with little motivation. I was struggling for the first time to find the energy to keep going. Resilience has always been strong in me. I have never struggled long before standing tall and moving forward. For the first time in my life, I felt hopeless, exhausted, and lacked motivation. Healthcare burnout is a real issue; until you hit that wall, you have no idea how dark that place can be. I had difficulty trusting myself and my intuition, the same instinct that I had always relied upon. I couldn't even muster enough energy to think about my future. After just a few sessions with Elisabeth, I am starting to feel like myself again for the first time in a very long time. Elisabeth helped me focus on what truly matters to me, what gives me joy and fulfillment. She helped me refocus my words and thoughts to match my true soul's purpose. She acknowledged my struggles and provided me with tools to work through them. I feel clearer, empowered, grounded, and confident again. The clouds have dissipated, and I am excited for the future. I am filled with gratitude to have had the pleasure of working with Elisabeth! If you are someone looking for a life coach with integrity, passion, and a true gift for helping people, including avoiding or returning from burnout, Elisabeth is your coach! I highly recommend her. "- Ann Scarpita, MSN, MPH, BSN, RN, Colorado Department of Public Health & Environment
"The decision to work with a life coach is extremely personal, and perhaps, intimidating. I decided to take a leap of faith, and I am so glad that I did. Elisabeth is a genuinely compassionate person who truly listened to me, and I immediately felt at ease with her. Prior to our coaching sessions, I was having a bit of an existential crisis. With her gentle guidance, I was able to do the deep introspective work to develop my intuition and reveal the answers that were already there, but that I had previously struggled to find. As a result of our powerful work together, I am in alignment with my true purpose and pursuing the path which is authentic to me. I would enthusiastically recommend Elisabeth to anyone considering working with a life coach to make a positive, and maybe even profound, life change." -Gia K., Colorado
More Testimonials
"I highly recommend Elisabeth as a life and career coach. In our work together focusing on my career transition, she's provided exceptional value in her ability to assess situations quickly and offer concrete tools, resources and plans of action to enable successful growth, change and confidence.
She is very patient, kind and highly intelligent with a unique background and experience that really shines through. Thank you Elisabeth for putting me as ease and helping me successfully break through in my life!" ⁃ Paula Stein, Santa Monica, CA
"Having known Elisabeth for over 20 years, I was excited to follow her journey in discovering her passion for coaching and became one of her first clients. She is incredibly patient, compassionate, authentic, professional, and non-judgmental . . . qualities which certainly stem from her strong sense of spirituality. Any with the desire to discover their true potential and sense of purpose will enjoy working with Elisabeth." - John Cahill, Portland, OR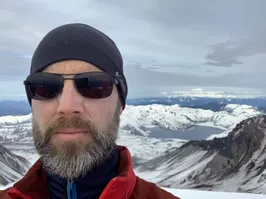 --John Cahill, Portland OR
Background & Training
Elisabeth is a former deadly disease investigator, government health leader, and veterinarian, who helped prepare for and respond to the pandemic. Elisabeth went through many dark nights of the soul that pushed her into spiritually transformative experiences that led her to powerful healers, mindfulness, meditation, yoga, Ayurveda and spiritual practices of deep wisdom.

Now Elisabeth bridges the world as a transformational health, life, and spiritual emergence coach. Healthcare providers, veterinarians, and conscious leaders hire her to support them in returning to wholeness through deep selfcare or transition to a different career to find inner joy and peace.
Providing coaching on midlife changes, health, meditation, and spiritual emergence, Elisabeth blends her extensive training and experience to tap into your inner wisdom and the best resources and information to launch you into the best next chapter of your life. She is available to teach yoga as a guest instructor, including offering partner/couple yoga classes. She received her training from:
As a former public health leader shaping communities for optimal health for over 20 years, former competitive triathlete for over 30 years, and as a former large animal veterinarian, Elisabeth's experience prepared her to share wisdom on balancing a hectic professional life with personal wellness. With knowledge, Elisabeth and you will co-create completely personalized actions based on your goals to move you toward your ideal vision of health and life within your unique body, lifestyle, preferences, and resources.
As author of "Stillness & Wilderness", Elisabeth shares with the world her inner work in transforming during an intense spiritual awakening and resulting shift in her life's purpose. Life and many wise guides shaped her to serve others . . . to help you transform and release your inner light.
As a coach, she puts the power back in YOUR hands.
Learn more about her training and her unique approach to coaching.
Are you curious about how coaching can help you? Let's talk. Schedule an initial consultation with Elisabeth today.